Assalamualaikum
When you run out of money, where would you go? Auto Teller Machine, I guess. Sounds familiar, isn't it? Wait till you see how the ATM's has revolve time by time.
Image Source: funnyjunk.com
Okay. For sure that the ATM that I was talking about refer to the Auto Teller Machine. Have you ever wonder what ATM is all about and how they come out with an ATM? ATM also known as ABM (Auto Banking Machine), cash point, cash line or hole in the wall. According to Wikipedia.com, it is a computerized telecommunications device that enables the clients of a financial institution to perform financial transactions without the need for a cashier, human clerk or bank teller.
The idea of self service in retail banking was developed through independent and simultaneous efforts in Japan, Sweden, United Kingdom and United States. Despite of many ATM invention, the only registered invention was recorded in 30 June 1960 and it was first presented to public on 1959 in the Kingsdale Shopping Center, Ohio (Wikipedia.com). Since then, due to the increasing demand and widely accepted, more and more banks come out with their own Auto Teller Machine. Till today, there are various types of ATM around the world and travel with your ATM card today, are no more a burden.
The very old types of ATM. You can only withdraw money.
Image Source: flickriver.com
First launched ATM back in 1959
Image Source: bloomberg.com
The old ATM
Image Source: time.com
Image Source: google.com
Image Source: blogs.wellfargo.com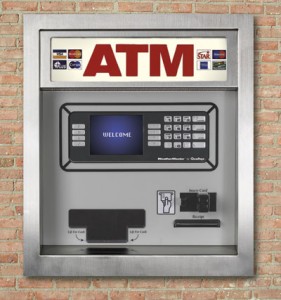 ATM in Russia
Image Source: thfire.com
Image Source: turbosquid.com
A multi function ATM (Personas 75 series)
Image Source: wikipedia.org
ATM in German
Image Source: wikimedia.org
ATM in China
Image Source: china-mike.com
ATM in Korea
Image Source: 22pf.org
ATM with internal microphone
Image Source: wikipedia.org
And here, I introduced you with the future ATM by Apple. If you're an Apple user, the features in the ATM might sounds familiar and compared to the current ATM, I would prefer this! It's easier and more customer friendly, I guess. Let's wait whether Apple can produce it better. With the latest Apple ATM, money withdrawal are never as boring as before.
Image Source: Youtube Snapshot
Wider touch screen for easier transaction activity
Image Source: Youtube Snapshot
Too smart too handle
Image Source: Youtube Snapshot
Erm. Wider screen and less secure?
Image Source: Youtube Snapshot
Here goes the video of Apple ATM! Have fun watching the video. If it's too good to be true, then let's just hope that someone will invent this. Oh, it could be you! :)